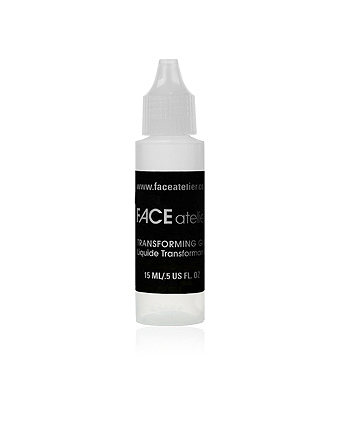 SIMPLY MIRACULOUS. And miraculously simple to use. Only FACE atelier's Transforming Gel magically transforms a shimmer, loose or pressed powder and pigment into a pool of easily applied, lasting colour that sets and makes a lasting impression.
Mix a drop of this gelatinous wonder with your fave eye shadow and WHAM-BAM-WOW...instant, long-lasting waterproof eyeliner in any shade you can imagine! Do the same thing to create waterproof eyebrow color. Dying over those new waterproof cream eye shadows? Save your $$$, and make them yourself by adding a few drops of Transforming Gel to loose shimmer and pigment powders. Blenderella can honestly say this has "transformed" the way I look at waterproof makeup product.
Kevin James Bennett - InMyKit.com
Emmy award-winning makeup artist
Best Breakthrough Product! For me, it would have to be Face Atelier's Transforming Gel. Like its description it really is miraculous. It can transform any loose or powder product into lasting colour that doesn't budge. I actually also used this on my cream eye shadows and was amazed that it didn't crease all day and it deepened the colour! It's also really easy to apply and all you need is a drop.
make-upjunkie.blogspot.ca – Best of Beauty
Transforming Gel has the ability to turn any shimmer, loose or pressed pigment, including cake eyeliner, into a water-proof paint that won't fade, smudge or crease, and is extremely long-lasting. This versatile product can transform one eye shadow into three different products. Multi-purpose and economical.
Bonus! Transforming Gel can also be used to reduce puffiness and the appearance of dark circles under eyes. This isn't surprising when you read about its key ingredients. Store it in the fridge as cold Transforming Gel will reduce under eye puffiness and dark circles even more.
Key Ingredients
Cucumis Sativus (Cucumber) Fruit Extract - A cooling, healing agent that soothes irritated skin and reduces redness. It is composed of 90% water (cooling action), amino acids, proteins, lipids, and Vitamin C that serves as an antioxidants that help soothe, calm skin irritation, and relieve puffy skin. Some of the minerals found in it are magnesium, potassium and silica; silica helps reduce wrinkles and fine lines by tightening of collagen. This extract also acts as an anti-inflammatory and its moisture-regulating qualities make it perfect for revitalizing and hydrating the skin.
Aesculus Hippocastanum Extract - Its venotonic effect provides vascular protection, aiding circulation to reduce swelling. It also has anti-inflammatory and free radical scavenging properties.
Glycerin - Present in all natural lipids, it's a humectant that helps prevent dryness and scaling. When combined with other emollients like silicones, it moisturizes while helping skin heal, reduce associated skin conditions as well as enhance the skin's natural protection. It also helps skin cells mature properly and may heal wounds more quickly.
Mix Transforming Gel with any other emulsions or creams, such as concealer, to help make them more water resistant.
A little bit goes a long way! Mix a drop of Transforming Gel with your favourite FACE atelier shimmer. The result – a shimmering paint that endures all day. And all night...

Use Transforming Gel to turn your fave FACE atelier eye shadow into a custom liner, and apply with the precision of FACE atelier's Flat Liner brush. Don't add Transforming Gel directly to an eye shadow pan as it will cause the pan to harden and shorten the life of your eye shadow. You can put it directly onto a cake eyeliner as the formula is so much denser.
No need for a custom brow kit at Face atelier. Transform your brow with any FACE atelier cake eyeliner or shadow and Transforming Gel. Then precisely apply it with our best-selling Angled Brow brush.
PRO ALERT - Make Transforming Gel part of your face prep. Apply to the under eye area to reduce puffiness and lessen dark circles - even better if it's chilled!
You're one step closer to owning this product!
Transforming Gel has been added to your cart