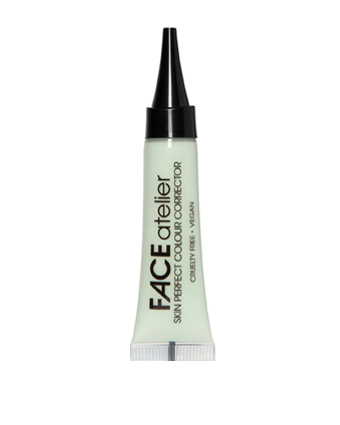 A perfectly toned and youthful complexion is just a few drops away with FACE atelier's triple threat Skin Perfect Colour Correctors. The cutting-edge silicone and water formula effortlessly perfects your skin tone, camouflaging imperfections that include redness, sallowness, dark circles and discoloration. At the same time, it hydrates your skin while blurring imperfections. The advanced optical blurring pigments reduce the look of fine lines and wrinkles while the easy-to-use formula ensures the seamless, neutralized base is simple to cover with your foundation and concealer.
NO PRIMER NEEDED! Priming functions are built into the formula, including creating the perfect surface so that your foundation and concealer grip the skin, guaranteeing they won't shift or slide and last longer. Bonus - you use less product and your skin looks natural, younger and renewed all day long.
Skin Perfect Colour Corrector Play List
Use our GREEN Skin Perfect Colour Corrector to cancel redness, including ruddiness, rosacea and broken capillaries. It works on a wide range of skin tones, from porcelain to deep tan.
Versatile PURPLE Skin Perfect Colour Corrector neutralizes yellow/orange sallowness on light to deep tan skin tones and brightens fair to medium skin tones.
Our YELLOW Skin Perfect Colour Corrector cancels purple and brightens medium to deep tan skin tones. It also neutralizes minor redness on fair to medium skin tones.
Unique NEUTRAL Skin Perfect Colour Corrector is a universal shade that balances all skin tones while smoothing your skin's appearance, delivering the perfect canvas to apply makeup.


BLAZE helps brighten medium to deep skin tones as well as cancel redness.


HEAT neutralizes hyperpigmentation on deep to rich skin and balances uneven skin tone. It can also be used to cancel dark under-eye circles.
Our Skin Perfect Colour Correctors seamlessly perfects your skin tone, hydrating your skin and diminishing the look of fine lines and wrinkles, thanks to superior optical blurring capabilities.
The formula has an extremely high level of concentrated pigments encapsulated in a weightless, velvety emulsion that glides seamlessly onto your skin.
FACE atelier Skin Perfect Colour Correctors are the only product you need to correct, neutralize and prime your skin, allowing you the freedom to use with your fave foundation and concealer.
Our Skin Perfect Colour Correctors are remarkably versatile. And like many other FACE atelier products, there are no rules. Because of the unique formula, the correctors can be used before, during and after applying foundation/concealer. The product builds and plays very nicely with whatever brand you use.
That means you're limited only by your curiosity and imagination. We urge you to order samples and play with the shades. And when you discover an amazing application for them, let us know and add it to our PRO TIPS.
A little goes a long way so start with a small amount. Because the formula builds, you can apply more as required. Thanks to the needle-nosed tip, it's easy to control how much product you use, so there's no waste.
Use our Skin Perfect Colour Correctors to spot correct - they melt seamlessly into your skin and are easily covered by your foundation and concealer.
The Neutral Colour Corrector is the most versatile shade as it's truly universal and can be used in some way on every skin tone. It will even your skin tone when used before makeup or added to your Ultra Foundation. You're a brush stroke away from the perfect no-makeup makeup look.
You can also use the Neutral Colour Correctors to create a highlighter. It will lighten but not change the tone of your foundation/concealer, creating a natural looking highlight - perfect for accentuating cheekbones. For added illumination, a swipe of your fave Ultra Sheer shade creates a noticeable but natural-looking glow. Add Coral Ultra Sheer to you sample list – a fabulous new shade inspired by the 2019 Pantone shade of the year.
You're one step closer to owning this product!
Skin Perfect Colour Corrector has been added to your cart