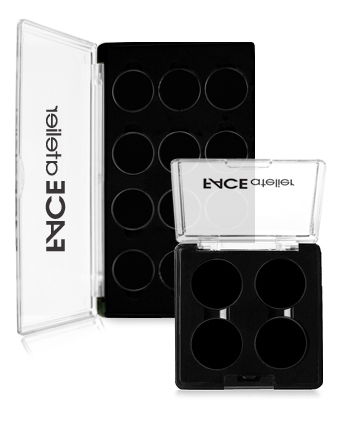 FACE atelier's innovative eye shadow palettes allow you to be in control! Magnetized with finger wells, these palettes can be re-used for years. Designed to fit our eye shadow pans, the clear lids have integrated UV protection to shield pigments from harmful rays and extend the life of your shadows.
Because FACE atelier eye shadows are sold separately and fit into these reusable palettes, you only need to purchase shades as you use them. And the clear lids allow you to see what shadows you have – practical, economical and good looking!
Available in two sizes – a smaller 4-well palette that's ideal for work or travel, and a 12-well palette when you just can't say no to another shade.
Organize your palettes like the pros! Group similar shades together or separate matte from frosted shades.
When travelling, make a custom 4-well palette of your fave shades that you use the most, and leave the other shades at home.
You're one step closer to owning this product!
Palettes has been added to your cart