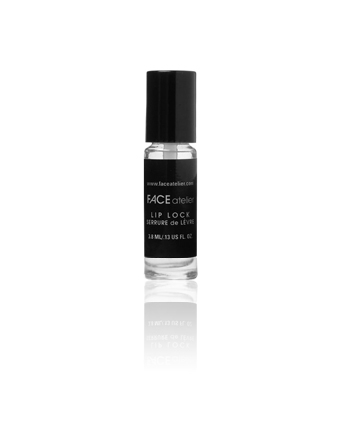 Lip Lock is a clear shellac that literally locks in lip color to prevent transfer and extends the wearability of color lip products.
I got to test Lip Lock, the aptly-named product you apply over lipstick so it stays put. I tried this on a work day over a red lipstick… and it works. It really, really works!
WeHeartThis.com
If you're having issues with lip color moving or transferring, try something with a longer wear like Face atelier's Lip Lock. It's an amazing product and I use it all the time on brides.
MakeupTalk.com
Lip Lock padlocks your lipstick in place without changing its shade. It feel weightless on the lips and will lengthen your lip color wear time when used properly.
Key Ingredient
Alcohol Denat – a commonly used cosmetic astringent that also functions as an anti-microbial agent that kills microorganisms, as well as prevent or inhibit their growth and reproduction. Unfortunately it's not a great tasting ingredient, thanks to (incomprehensible) government regulations.
Lip Lock is drying and like most dehydrating products it can sting a bit if your lips are chapped or damaged. Before you use Lip Lock, moisturize with a balm like FACE atelier Lip Putty that hydrates and repairs dry lips.
After applying a generous amount of lipstick over a penciled lip, gently blot the lip before applying a thin layer of Lip Lock. You can then reapply lipstick or lip glaze for an extra layer of moisture.
BRIDAL ALERT - Lip Lock is a must-have for brides.
You're one step closer to owning this product!
Lip Lock has been added to your cart