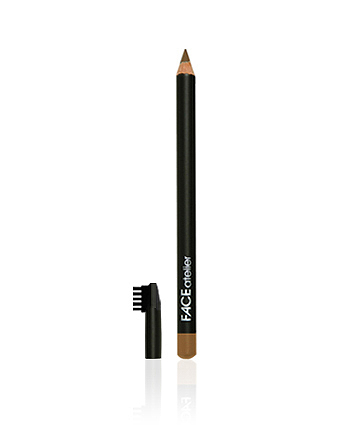 FACE atelier Brow Pencils sculpt, shape, color and define the eye brow with rich, natural pigment. Our formulation results in smooth application of color that is easily blended. The firm texture allows for maximum control and provides long-lasting definition.
Use FACE atelier Brow Pencils to correct an over-plucked or sparse brow, creating the illusion of a fuller brow line.
Stay within the brow hairline – don't pencil beyond it. A cotton swab remains your best friend if you pencil outside the hairline. A lightly moistened swab will clean up the brow without ruining the rest of your makeup.
Use light, short strokes without pressing down too hard on the pencil. You want the color to blend in with your brow color.
The pencil tip should be slightly rounded as opposed to pointy and sharp. Swipe an over-sharpened pencil on the back of your hand to dull the point as needed.
To soften the tip, you can rub the tip in your fingers; put the tip near a light bulb for a short time or give it a blast with your blow dryer. Angle the pencil, using the side of the pencil when you want a thicker line.
You're one step closer to owning this product!
Brow Pencil has been added to your cart